Titanic, the true love







Iedereen droomt van een liefde, zoals Rose en Jack hebben, maar er zijn er slechts weinigen die dat echt mee kunnen maken. Ik ben een van de weinigen.


Deze liefde is even gedoemd als het schip waarop zij elkaar leren kennen.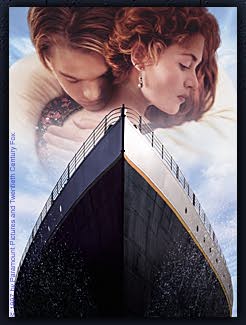 Jack betovert Rose met zijn vrije geest en leert haar "to fly"


JACK: Hold on to the railing. Hold on, hold on. Keep your eyes closed. Do you trust me?
ROSE: I trust you.
JACK: Open your eyes.
ROSE: I'm flying!


Nothig on Earth could come between them





Titanic won 4 Golden Globe awards:
Best Picture-Drama
Best Director-James Cameron
Best Original Score-James Horner
Best Original Song-Music by James Horner, Lyrics by Will Jennings, Performed by
Celine Dion




De film
You can find on this page too:
Photogallery of Leonardo DiCaprio
- Man in the iron mask
- Marvin's Room
- Basketball Diaries
Photogallery of Kate Winslet

Foto's van Rose en Jack
You can find on this page too:
The real passagierslist of Titanic


De titelsong van Titanic
You can find on this page too:
Downloadstuff of Titanic


The story of the REAL Titanic

Oscar Academy Award 1998
My site has been rewiewed and awarded the .Cool Reality Award.
Free to exlpore more about this award-site!





Creativ Web Design. Free Cool Animation!
Bookstore (Just Added: TitanicBooks)




Links naar andere Titanic webpagina's:



Titanicmovie link

The heart of the ocean

Titanic the movie

Titanic Webside


Jij bent welkom op mijn andere HomePage
You are visitor:
Visit the Dutch Personal Page Link!



Thanks for "Kate Winslet Show", "Titanicmovie.com", "Leonardo DiCaprio newsgroup", "James Cameron newsgroup" and "Titanic Script" te make my TitanicPage possible.


Last modified on Monday 13 April 1998