Titanic, the true love



Oscar Academy Award 1998







'Titanic' Dominates Academy Awards

LOS ANGELES (Reuters) - ``Titanic,'' the $200 million
film that has broken all box office records, was named
best picture of the year at the Academy Awards 1998.
The epic starring Leonardo DiCaprio and Kate Winslet
tells the story of romance aboard the doomed ocean liner
that ``could not sink'' but did on its maiden voyage.
The film picked up a total of 11 Oscars.
``Titanic'' also took home Oscars for best costume
design, sound, sound editing, visual effects, original
dramatic score, film editing, original song, art
direction and cinematography.



Oscar for the best director : Mr. James Cameron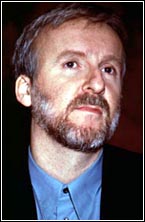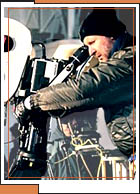 Mr. James Cameron and his wife Linda Hamilton in L.A.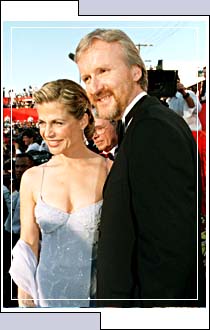 Oscar for the best movie : Titanic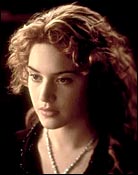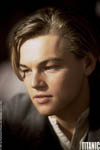 Kate Winslet in L.A.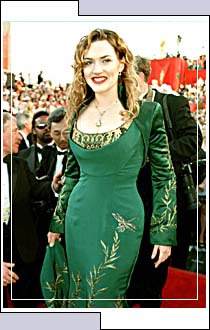 THE Oscar ceremony is the greatest fashion show on earth. Who needs supermodels when the best actress is clutching her Oscar to the satin cleavage of a gown you have designed and is being watched by a billion people? If that does not shift millions of bottles of perfume, nothing will.
It is no wonder that designers' doors are always open to Hollywood's star bodies. Minnie Driver, who wore a Halston slink with matching red fox fur, said: "People have been trying to bribe my stylist to make me wear their gowns. Pretty much every designer has been in touch."
But despite the encouragement of many of the world's most famous couturiers, the starring dress roles went to what the man-in-the-street would regard as fashion's supporting cast. "It was all made-to-order dresses, darling, and who's got time for that when we've got collections to show," confided one atelier insider.
Oscar night was low on glitz, high on understated glamour. The key gowns subscribed to the three-S dress code - simple, strapless and satin - often worn with the all-important satin shoes, beaded clutch and diamond studs. Jewellery was low-key - discounting Claudia Schiffer's $1.3 million haul from Van Cleef and Arpels, and Gloria Stewart's million-dollar Harry Winston blue diamond.
Before the night, Helen Hunt's dress had been claimed by arch-rivals Giorgio Armani and Calvin Klein, but she actually wore Gucci; Cameron Diaz was bagged by Valentino, Christian Dior and John Galliano, but wore none of them. Kelly Lynch was torn between Armani and Valentino (she went for the latter), while Julie Christie surfed "the pond" before deciding on New York lace and beading experts Badgley Mischka rather than home talent Neil Cunningham, who designed Ffion Jenkins's wedding gown.
Unlike Christie, her fellow British nominees for best actress flew the flag. Winslet stole the show in a one-off jade silk and satin "hourglass" gown and matching bolero, hand-embroidered with crystal beads in a weeping willow and dragonfly pattern, by East-Ender Alexander McQueen for Givenchy. (Why does he not put dresses like that on the catwalk?)

Many thanks for Mr.SHOWBIZ, Oscar.com and the Kate Winslet Fanclub.



Thanks for visiting my TitanicPage


Last modified on Wednesday 25 March 1998